Howdy folks.
I got a chance to see two really good bands on Saturday January 17th at Shine in downtown Sacramento.
It was the Travis Larson Band and Larry Mitchell trio.
I saw Larry play several times in NY about 20 years ago. He has great technique and plays some funk style instrumentals and emotional ballads as well as shred guitar. He would come down to the open mic jams in NY and is a really nice guy. Larry had a nice rhythm section with Hunter Craig on bass and on Russ Garner on drums. He also is a Grammy award winning producer. I got a new cd which is called "The Rhythm of Life". Larry had his new Knaggs guitar which he really likes and was raving about the company.
More info on Larry is at larrymitchell.com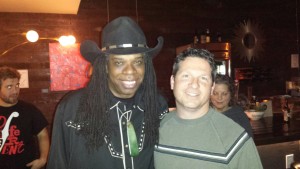 I didn't know much about the Travis Larson Band before the show but I was very happy I got to see them. They are a power trio with Jennifer Young on bass and Dale Moon on drums. I think they have been together for 15+ years. They have a definite Rush influence (which I like). They play instrumentals as well. I picked up their "Burn Season" cd (which has a track in 11/8 time) but their new album is "Shift". Travis uses looper pedals very effectively for layering  guitar parts and the band sounded tight even with the sometimes complicated parts in the songs. He uses Ernie Ball JP and Majesty guitars which are very nice. Jen (if I can call her that) has some serious chops on bass and Dale fits right in with both of them.
Check them out at travislarsonband.com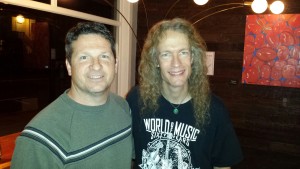 I also want to give a shout out to Shine. It is a very nice place to see a show. The owner Lance was friendly and even played some guitar! They have a jazz open mic on Tuesday nights. Larry and Travis were quick to point out how much they enjoyed playing there. Shane on me for missing last year's show. The sound was great and the tone from both guitars was sweet. Larry uses the Axe FX II system and Travis is using DV Mark amps with a Digitech floor board. I was impressed how good it was even thought it was not your traditional tube amp rig.
Both bands were very cool about talking with us after the show and signed the cds I bought. I asked Travis a bunch of questions about his gear and he was very helpful and knowledgeable. I try and take advantage of any opportunity I get to talk with a touring musician about gear. This was one of several shows they did on their way to NAMM. I was going to go down to Anaheim to attend the show but had to back out at the last minute. 🙁
I encourage you to check these guys out and buy their music. If you are a fan of technical guitar instrumentals as I am, I think you will find these guys at the top of the list.
Jack